CONGRATULATIONS to our Chairman IWD 345 Bangladesh Tahia Khalil and her vibrant board for the year 2019 – 2020 upon your assumption of new responsibilities as the following:
Tahera Wahid (VC 1)
Angela Boishaki Mendez (VC 2)
Mohsena Reza (Imm.Past District Chairman)
Fatema Mazid (Secretary)
Parveen Zaman (Treasurer)
Tahera Muzaffar (Extension Organiser)
Farah Naz Qayyum (International Service Organisor)
Soheli Sattar (Editor)
Eihita Hassan Auhana(Web master)
A leader creates heroes in every role, but a true leader makes sure every role performed at a level of excellence is treated as a respected profession. We are pleased to welcome these exceptional leaders on board. All the best wishes and prayers with you to have a fruitful, rewarding and enjoyable tenure ahead, hence successfully carrying the legacy of INNER Wheel forward. Wish you all the best for your new tenure!
HEARTIEST CONGRATULATIONS TO OUR IIW Board Director Nahid Newaz from Bangladesh.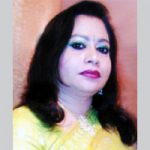 You have made us proud with your commitment and sincere wish to address our day to day anxieties. Undoubtedly your willingness to volunteer your time and effort, as well as express your opinions, has contributed to your being selected for the post. Best wishes for your relentless effort to uphold the motto of Inner Wheel. KUDOS!