Inner Wheel District 345 Bangladesh extends its support in setting up a 8-bed COVID-19 Ward at Ahsania Mission Cancer and General Hospital in Uttara, Dhaka.
As part of the support, on behalf of the clubs from the District, Tahera Wahid, Chairman of the organisation, handed over a cheque for an amount of BDT 25,00,000 to Kazi Rafiqul Alam, President of Dhaka Ahsania Mission at a simple ceremony held at the latter's head office in Dhanmondi on July 26.
Brig Gen (Prof) Md Abdul Karim Khan (Retd), Managing Director of Ahsania Mission Cancer and General Hospital was also present on the occasion.
"International Inner Wheel is one of the largest women's service voluntary organisations in the world with its presence in more than 104 countries, including Bangladesh. During this unprecedented pandemic, members of the clubs from Inner Wheel Dist 345 have decided to support setting up of a COVID-19 Ward at the Ahsania Mission Cancer General Hospital, which will extend medical support to poor and underprivileged patients of our society at subsidised costs," said Tahera Wahid, Chairman, Inner Wheel Dist 345.
"The Inner Wheel members will also provide financial supports to those patients, not in a position to bear the cost of medicines," she assured.
Thanking the Inner Wheel Dist 345 and its members, Kazi Rafiqul Alam, President, Dhaka Ahsania Mission, said, "This generous financial support from various quarters has greatly helped and inspired us in setting up a much needed COVID Unit within the shortest possible time. The specialised unit at our Ahsania Misssion Cancer and General Hospital at Uttara is now fully functional and extending treatment to ever increasing number of COVID patients in the country."
He urged upon affluent section of our society, service organisations and corporate houses in the country to extend their helping hands in developing various healthcare services and equipment in the hospital."
Ahsania Mission Cancer and General hospital has already launched a dedicated 50-bed COVID-19 Care Unit with central oxygen supply and latest specialised treatment and diagnostic facilities, including RT-PCR lab at their Uttara premises.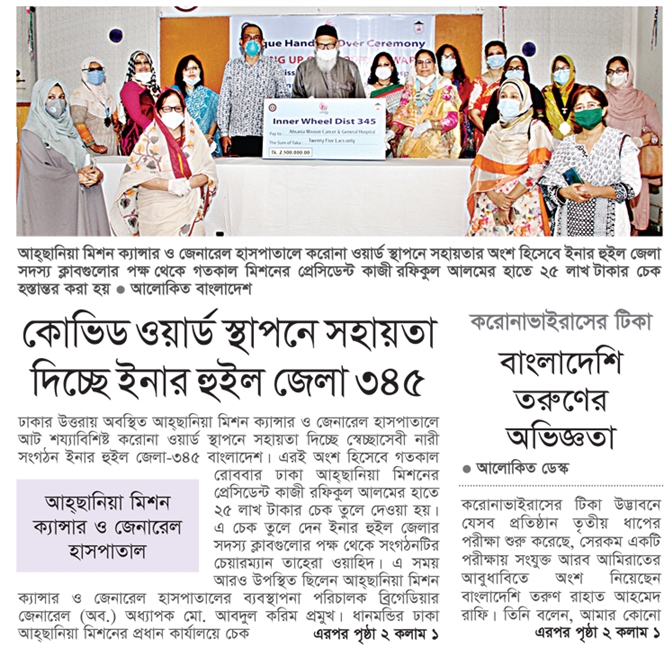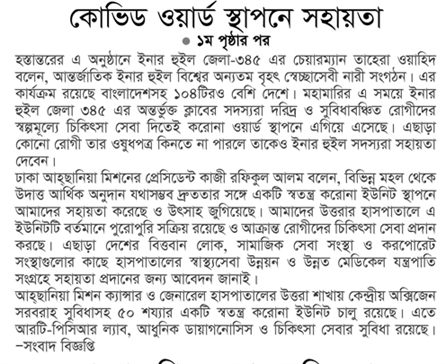 Src: https://bangladeshmonitor.com/news_update/2648/inner-wheel-dist-345-helps-set-up-covid-ward-at-ahsania-mission-cancer-and-general-hospital