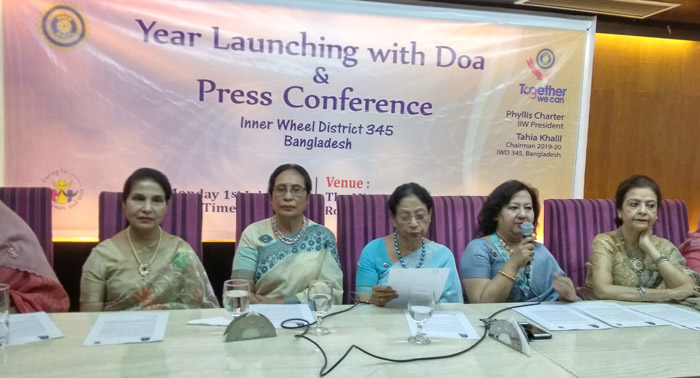 Inner Wheel District 345, the largest branch in Bangladesh of International Inner Wheel, a global women's voluntary organization, has announced various programs for underprivileged sections of the society.
Tahia Khalil, the newly-elected chairman of Inner Wheel District (IWD) 345, announced the programs at a press conference held at a hotel in Dhaka on Monday.
In line with the theme 'Together We Can,' announced by the International Inner Wheel President Phyllis Charter, the IWD 345, comprising 37 clubs and having over 1,000 members,  has undertaken various projects in the fields of healthcare, education, sanitation and women's empowerment with the objectives of serving underprivileged people in Bangladesh.
Also a banker by profession, Ms. Tahia Khalil said the IWD 345 organizes eye and dental camps, provide food among affected people during floods, distribute blankets among poor during the winter, serve orphans and acid survivors.
"Members of the clubs under Inner Wheel District 345 touch the lives of an estimated 10 million poor people through various noble activities a year," she said.
"We want to raise our activities up to the professional levels and spread it across Bangladesh. We want to reach and penetrate all areas of the country."
The newly-elected chairman said the IWD 345 does not receive any kind of donation from anywhere else. It strictly raises funds through its members. The funds collected from its members enable the clubs to undertake projects.
"We don't get any kind of donation. We ourselves raise funds, which are used to carry on the Inner Wheel's activities for the underprivileged people across Bangladesh round the year," she said.
Tahia Khalil also said the IWD 345 would organize a two-day 'South Asia Rally' in Dhaka on March 20-21 next year.
The press conference was also addressed by founder of IWD 345 Dilruba Ahmed, IWD 345 executive committee vice chairman Tahera S. Wahid, immediate past district chairman Mohosena Reza, treasurer Parveen Zaman, extension organizer Tahera Muzaffar, international service organizer Farahanaz Qaiyum, and Dr Soheli Sattar while members of the IWD 345 were present.
https://www.observerbd.com/details.php?id=205083