Dear Change Makers
I am immensely happy to send my message of best wishes for your District Directory. I appreciate the efforts of the District Chairman and her Team in preparing the District Directory.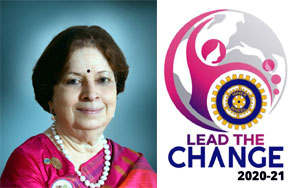 A Directory is an invaluable resource, an informative and worthy document for all District Members.
It serves manifold purposes by providing information on Inner Wheel at International, National and District levels ; Messages from IIW President, National and District leaders; Goals for the year ; about Club Presidents and other office Bearers ; District
Committees and other important Inner Wheel information .. which will help make the task easier for Club Teams to achieve.
We need to read, understand the information about our year and use it well.
After all, we all are lifelong learners.
With planning, perseverance and patience, we can together strengthen our Organisation, enhance the image of Inner Wheel and multiply our contribution to society.
Our one single year of dedicated work can become a giant leap for our Organisation.
Let us, therefore, LEAD THE CHANGE successfully.
I convey my greetings and wish all dear Inner Wheel Members a very bright and happy year, filled with love, happiness, hope and memorable achievements !!!
Dr Bina Vyas
President 20-21
International Inner Wheel