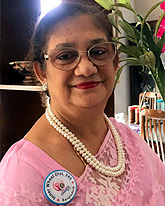 Dear Inner Wheel Sisters,
Welcome to a New Inner Wheel Year 2021-22.
We commence another beautiful year hopes and dreams with many challenges and barriers through this pandemic.
The whole world is going through a difficult period due to COVID-19 pandemic. Everyone is suffering financially, mentally, and health wise. This year too, is definitely going to be a difficult year, due to the pandemic, which is compelling us to stay home and work from home, as with the past year, which it may continue for years to come. My heartfelt condolences to all the family who have lost their near and dear ones.
We are getting used to the New Life with New Thoughts, New Challenges and a World of Virtual Reality. Inner Wheels has also adapted to the new reality and moved with time to address these challenges. We are still prevailing through difficult times. I believe God Almighty will help us all to overcome these difficult times. Women helping Women will certainly help bring about changes to the World.
Dear Inner Wheel Sister, our International President has manifested a beautiful theme for the year 2021-22. Madam President urges us all, to work with women of all ages, in helping each other to accomplish the best. I urge all Inner Wheel Sisters to follow this theme, which may act as the catalyst for achieving our goals. STRONG WOMEN – STRONGER WORLD.
Our International President truly trusts in each and every one of us, to contribute towards the advancement of women's rights, encourage women to reach their goals and gender equality, through friendship, personal service and Fostering International Understanding.
Through this message, I wish each and every one the very best for the coming year. May we flourish and reach new heights.
Thank you.
Angela Baishakhi Mendes
Chairman – D345
2021-2022